Whether you're looking for a simple banner, point-of-sale display, office signage, vehicle graphics or a full exhibition stand, Nettl can help
These days it's feasible to brand every surface of your building. If it stands still long enough, we can cover it in graphics. That means floors, ceilings, walls and windows.
We print onto a range of products, from fabric display stands to gleaming aluminium panels. We can provide window graphics for retail premises, Covid-safe signage, wall posters and external signage. Our team can also add graphics to your vans and lorries to help spread the word.
Nettl can also provide a range of promotional merchandise to help you engage with new clients and build strong meaningful relationships with your existing customers. Promotional merchandise helps develop brand recognition, from water bottles to pens, umbrellas to car air-fresheners, wireless earphones to sunglasses and everything in between.
Nettl's exhibition stands and fabric displays provide the latest in display stands to make sure your business stands out from the crowd. These fabric banner stands give you a superior presence at exhibitions and are ideal for permanent indoor office displays or studio props.
Available in a range of shapes and sizes, they can be used for a variety of purposes, including navigational signage to direct customers and staff around workplaces, promotions, or beautiful interior decorations and meeting booths.
Display stands are made up of two main components — a strong, lightweight, aluminium frame and a printed fabric cover. The 260gsm 'stretch' fabric cover is printed on the front and reverse as standard. Designed to fit snugly over the frame, it is secured at one edge with a zip fastening. The fabric cover is machine washable, changeable, and additional covers can be ordered separately.
They are easy to assemble and pack back up into a carry bag (supplied) once finished with, although they're so impressive you might just want to leave them up permanently.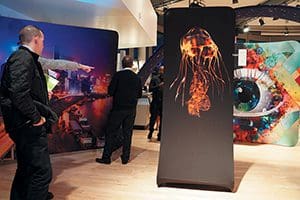 Display Stands
Nettl's freestanding displays are highly portable. Simply clip together the frames, then pull over the fabric graphic.
Use at networking meetings, exhibitions or for in-store point-of-sale displays.
When it's over, dismantle in minutes and be on your way – each stand comes with a carry case.
Curved Backdrops
Our curved backdrop displays pop up in minutes. Each has a continuous graphic, so you don't need to worry about lining up panels – stretch your message across the whole stand.
They're double-sided too. With the magic of stretchy fabric, you can flip which side is front each time. One message at one event, a different message at the next.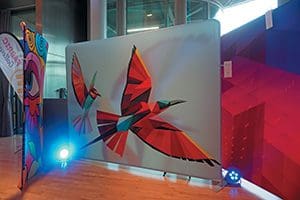 Straight Backdrops
These straight backdrops are just as imposing as the curved display stands, but have a slightly smaller footprint.
Get creative and combine our Stage 46, Stage 30 and Stage 18's to make L-Shaped or U-shaped displays to hide ugly exhibition shell schemes with our optional connection kits.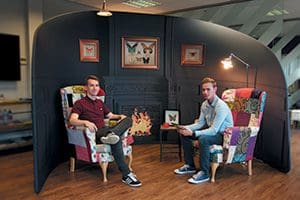 Meeting Booths
Rent a space-only stand at your next expo and pop-up one of these stunning stands – they're incredible in real life.
Or you can use them in your office to make inspirational booths for solo work or effective meetings.
We have a range of sizes available.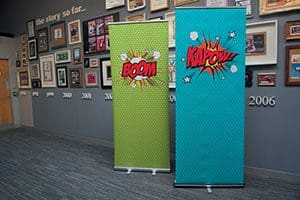 Roller Banners
These portable roller banners are ideal for indoor exhibitions and permanent office displays.
Choose from either 440gsm PVC or alternatively 410gsm greyback opaque film material (this prevents light from passing through and minimises curling on the sides).
Our banners are printed using latex inks which makes them scratch-resistant, UV-resistant and water-resistant.
Examples Of Our Exhibitions and displays
With experience in branding, design and print we can create striking marketing materials to help your business. Our graphic designers can produce anything from a printed business card, to a multi-page printed catalogue and even graphics for the side of a lorry. Our exhibit and display team can transform your office space or your conference presence. Our digital team produce websites that attract attention, are highly ranked in Google and generate sales enquiries for your business.