SEO CONSOLE FAQ'S
SEO console is designed to be straight-forward to setup, as well as hassle-free and easy to manage going forward. However, we have listed here our most frequently asked questions to support you.
If you haven't already signed up for SEO console, you can sign up here.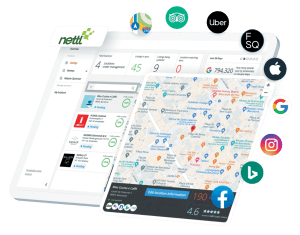 FAQ'S ABOUT YOUR SUBSCRIPTION
How do we sign up?
It's easy. Simply fill in the details on this page and we'll get you started.
Does my website need to be hosted by Nettl?
No! SEO console works for websites hosted anywhere in the world.
How many sites can be managed under one account?
SEO Console is priced per location. Owners of multiple businesses are able to manage it all in one place (simply use the same admin email when setting up the package). However you would be billed for each location that has an SEO Console package.
How long does the free trial last?
Your free trial lasts 30 days. Be sure to enter your payment details before the renewal date to ensure continuous service.
Am I tied in to a long contract?
Not at all, there are no long-term contracts here. Simply a rolling monthly subscription. Cancel anytime within the monthly period and you will not be billed again.
How do I cancel SEO console?
We'd hate to see you go. SEO console is an extremely cost-effective way to manage your SEO groundwork. That said, if you still want to cancel, simply get in touch and we will cancel your subscription with no hard feelings.
What happens if I stop the subscription?
We will all become very sad and you will sadly lose access to all the tools. Your listings will remain in place but will become dormant.
If a location is deleted or the collaboration with Listings discontinued, the listing will no longer be checked / updated daily which means that third parties are able to modify the location data. Over time the data will become incorrect.
Furthermore, Actively syncing the data to the various platforms will result in a higher ranking. This is due to the fact that the platforms rank fresh data higher. Disconnecting from the Listings service will stop the active sync and therefore your rankings will suffer.
What is Listings?
Listings enable shops, restaurants,trades, doctors, petrol stations, museums, hospitals, and every other local business or public institution to automatically optimise their online presence for local searches.
Using Listings, you ensure that your business will be found as quickly and most frequently as possible when users search for directions, opening hours, reviews, recommendations, or events.
How does Listings work?
Under the Listings tab, all of your location data is stored and managed in the cloud. You can simply add, edit or remove data of your physical location. By saving the data we'll automatically update your business information and share it across all linked (online) platforms.
Since Listings is cloud-based, the data is always up-to-date and accessible anywhere, anytime. That's how simple Listings is today.
Is all location data securely and confidentially stored?
All non-public and company-related data concerning your company and all of your business locations and branches are hosted exclusively on European data centers which are subject to strict EU data security requirements and maximum privacy compliance.
What benefits do I get from using Listings?
Listings support local businesses in getting more physical website traffic. This starts with acquiring new customers through local search and ends with Managing Reviews and capturing contact details via Wi-Fi.
Listings allow you to update and manage location data out of a central platform in all channels relevant to you and your customers. This requires considerably less time and effort compared to manually entering the data for each location and platform.
With all our clients, the company and location data is synchronised daily, updated if required, and protected against manipulation by third parties. Therefore, the location information is consistent everywhere and the listing is always up-to-date. We are happy to help and advise you on how you may use Local Listing to the benefit of your business.
Which partners does Listings collaborate with?
Listings collaborate with the major, most high-reach online channels, rating and review sites, navigation systems, apps, and social networks.
We place the client companies in as many relevant channels as possible to achieve maximum visibility. Listings tries to upload as much data as possible. However, it ranges between platforms which data is actually accepted, based on the platform capabilities.
Which information will I be able to include in the listings?
Your address, opening hours, website link, e-mail address, telephone number, keywords, company descriptions (short and long text), social media profiles, logo, photos, landscape photo, payment methods, services, languages, special events, offers, and deals. We cover everything your business could need.
Why is a local reference important for my business?
Over 30% of all searches are carried out within a local context. To help your business be found by customers in your area, you should be listed with correct details on as many local channels as possible.
If someone searches for a plumber for example, they want a plumber near them. SEO Console tells the search engines where you are so that your customers will find you.
Most small businesses have a clear local or regional focus and, therefore, aim to appeal to people from the immediate surroundings. In addition to an excellent website, Listings is an effective means of presenting your business with always up-to-date and consistent information on the relevant portals and, thus, optimising your business' online presence.
Does Listings replace search engine optimisation (SEO)?
Listing aims at maximising the online visibility of your business.
By listing your business with correct and consistent details on as many channels as possible, your business becomes more relevant for search engines like Google and will be found more easily. SEO involves many other measures, such as optimising your website. But Listings perfectly complements traditional SEO and can be considered the first important step to maximising your business' online visibility. And it is much less expensive.
How does Listings improve my ranking on search engines like Google?
The higher the number of consistent listings a search engine identifies of your business, the more likely it is the information is evaluated as accurate, up-to-date and important. Accordingly, the search engine concludes that your business is relevant to search queries in your area. Adding the right category and keywords will improve search results and therefore traffic. In addition, you are listed in the Google-owned channels "Google Business Profile" and "Google Maps". This also has a positive effect on your search ranking.
I do not (yet) have a website. Do I get any benefits from Listings at all?
Yes, in any case. You should still be present where your customers are looking for you because directory entries work independently of a website. Enter the address, photos, and special offers of your business or your local branch and get listed in all major online channels at the push of a button! Thus, Listings helps you to significantly increase the visibility of your business, especially if you do not have a website. If however you are looking to get a website, then please get in touch as Nettl of Macclesfield can help.
How do I create the location listing?
You can create your business listing within a very short period of time. After signing up for the Listings service, you only need to make one entry and your location data will be distributed to all the appropriate online channels.
If any location details ever change, or you decide to provide additional services, you are able to update your business listing yourself immediately. All data is automatically updated in each of the channels, which saves a lot of time and effort. Thanks to the enormous reach that you achieve using Listings, people searching online become aware of your business more easily and your business will appeal to more potential customers.
Does Listings create a new Facebook page?
If no Facebook page exists for your business, Listings will automatically create a so-called 'unofficial' page. This is a company profile that shows details such as name, address, phone number, website, description, opening hours, category, profile photo.
If desired, an 'unofficial' page can be connected to Listings, claimed, and converted into an official company profile.
If a Facebook page already exists, it will be detected and can be connected to Listings.
How does Listings affect a Facebook page?
It doesn't. Facebook can be used as usual. Simply, the company data and logo will be updated.
Is SEO console the same as a Google Business Profile?
Connecting to Google Business Profile (formerly GMB) is a part of what this does. But no, they're not the same thing. SEO console connects to over 50 other platforms, plus can provide technical SEO insights to help you improve your website.
What is Google My Business?
In 2014, Google merged several services under the offer of Google My Business. By using Google My Business, small and medium businesses are able to significantly improve their visibility in local Google searches with little effort. Google My Business is now called Google Business Profile.
In an individual account, all of your company's contact details are entered, which then also appear on Google Maps and Google Search results.
By integrating your company in the map service Google Maps, potential customers have the opportunity to find your business, learn of the opening hours and directly calculate a route. Many local Google searches are performed via a mobile phone. If your phone number is listed on Google Business Profile, the potential customer can contact you immediately with a single click.
Does Listings create a new Google Business Profile page?
If no Google Business Profile exists, one will automatically be created. Then, it is up to you to initiate the verification process. Even if a profile exists but has not been verified by you or your client, the location needs to be verified. In both cases, either a postcard with the verification code will be sent to the registered business address, or a phone call given to the business phone with automatic transmission of the verification PIN. The verification code needs to be entered into the Google My Business account in order to complete the verification process.
If you already have a Google Business Profile, it will appear as "claimed by others". For Listings to be able to update the profile with the most recent information, you need to be added as an administrator.
There is an existing Google My Business page for my business. How is this possible?
There are two possibilities: either a page has already been created by an employee or an agency, or Google took over the business data from a directory (e.g. telephone directory, yellow pages). In the first case, we recommend finding out who created the listing in order to claim it back. In the second case, Listings will claim the listing and update it.
What is Bing Places?
Bing is another large search engine like Google. Bing Places is largely comparable to your Google Business Profile. After inputting all data and contact details at Bing Places, the information will appear in the Bing search results. The information displayed corresponds to the equivalent of what is shown on Google. Apart from your address – which is of course shown in Bing Maps – you may also specify your business hours.
We always advise to save a phone number so that your customers are able to reach you. In addition, the URL of your company's website is very useful, as well as links to the business profiles on Facebook, Twitter or Google+. To further increase the attractiveness of your Bing Places account, it is possible to integrate photos of your business or the products or services you offer.
With pictures of the outside of your business, your customers may find the location more easily, and an appealing photo of a product increases the desire to buy!
What is Foursquare?
Foursquare is a social location-based platform.
If your (potential) customer is, for example, in a restaurant, he or she can check in on the Foursquare app. Like this, he/she can let friends know of his/her location, write a review of the location and simultaneously share everything via Facebook or Twitter.
How and why to do a Review Request with SEO console
Did you know that as much as 69% of consumers don't trust online reviews older than 3 months? Recency of feedback is crucial. As a consequence, you'll need to get as many reviews as you can.
Search engines and review sites reward a higher number of reviews, too. Google collects and scores your reviews in order to determine your position in search results: more reviews, better ranking.
TripAdvisor often ranks a 4-star location with lots of reviews higher than a 5-star location with fewer reviews.
This means that you always need to encourage your customers to leave new reviews about your business or venue.
How? Review Request emails help increase the number of positive reviews your business receives per month by up to 40-70%.
How do Review Request emails work?
Review Request is an email that is sent to your visitors a day after they have visited your location.
They are then asked to choose between 2 positive smiley faces or 2 less than positive ones (see example image below).
A guest that clicks on one of the two (green) positive ones is redirected to a review site of your choice.
The guests that click on one of the 2 negative ones can be sent to a private survey directly, not to the review site of your choice, so you can learn from it and handle the complaint discreetly. It also won't affect your overall score if they were going to leave a negative review.
In this private survey they can let you know what they didn't like as much as apposed to what they did.
If they leave their personal information you can talk to them one-on-one.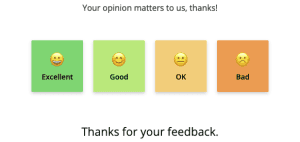 How often or when does Website Optimizer crawl my website, and update the Audit data?
The crawling for the website audit is done on the first day of every month.
I just updated my website, can I get my website crawled sooner or trigger this manually?
At the moment there is no manual action or other trigger to crawl a website sooner than the automated crawl on the first day of every month.
How often is the Uptime Checker run to check the status of the website?
The uptime checker runs every 15 minutes to check the status of the website.
How often is keyword ranking data generated?
New keyword ranking data is generated every 2 weeks.